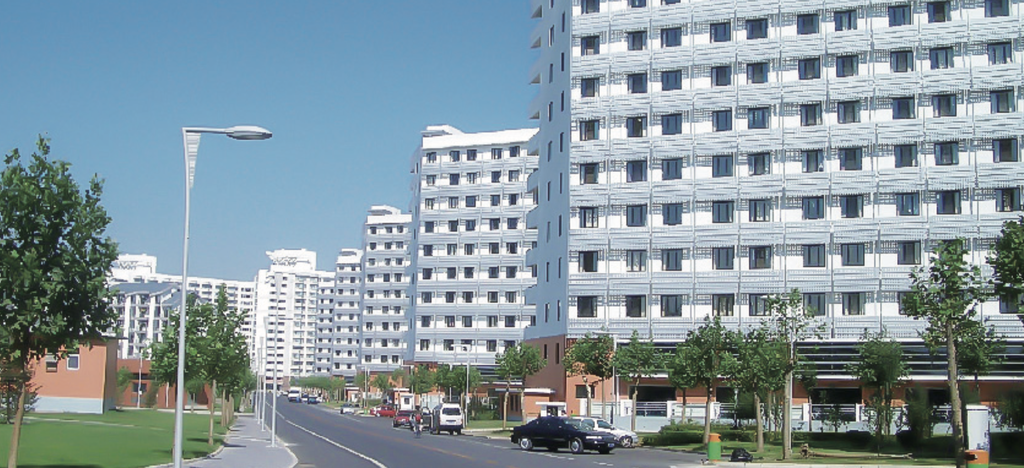 The Zijing International Student Apartments of Tsinghua University provide three types of dormitory rooms to the international students: single room (private bedroom and bathroom), RMB 80/day; AB room (private bedroom, shared bathroom), RMB 80/day/person; double room (two beds in one room, shared bathroom on each floor), RMB 40/day/person. Included in each room are bedclothes, air-conditioner , Internet access and furniture.
The apartments have a capacity of accommodating around 2000 international students, i.e, about 60% of the total studying at Tsinghua. For more details of the apartments, please visit Zijing International Student Apartments.
The General Service Desk of Zijing International Student Apartments is in Zijing Apartment Building No. 19. It serves from 7:00 am to 23:00 pm. The service phone number: +86-10-5153 5500/+86-10-5153 5501; Email: gaopei@tsinghua.edu.cn.
Because the number of on-campus apartment rooms is limited and can not meet the demands of all students to live on campus, the new students who have received the Admission Notice of Tsinghua University need to book the rooms in advance, following the date, time and procedure specified in the Instructions of International Students Dormitory Application System of Tsinghua University which is sent out by ISO to you together with the admission materials package. The website of the booking system is http://reser.myhome.tsinghua.edu.cn/
Before online booking, please prepare a bank card (Visa, MasterCard, or China UnionPay) that is enabled to support online payment for one semester's accommodation of a successful booking.
When you check in at the General Service Desk, please show your Admission Notice and passport. You may need to pay RMB 200 as deposit. Bank card, cash, and mobile payment are all accepted at the reception. The General Service Desk also provides Temporary Residence registration business. Please keep it along with your passport. It is required for your application of new visa, visa extension, additional entry or residence permit.
According to the law and the relevant policy, the Zijing International Student Apartments are only able to host foreign students who are registered in Tsinghua University. Neither the relatives or friends of students nor other persons are allowed to live in the apartments. Students living in the Apartments should comply with the administrative regulations. For instance, lighting fire, including using candles is strictly prohibited in the rooms; students are not allowed to host other people overnight in the rooms.